UPGRADE TO OUR NEW MaXX Mod Kit or Upgrade Kits! SEE

HERE




Kit Includes: MAVIC PRO, Remote, 2 Extra batteries (3 total), 16gb MicroSD card, charging hub, car charger, battery to powerbank adaptor, shoulder bag & 4 Extra propellers




The DJI Mavic Pro folds down as small as a bottle of water, making it small enough to bring with you everywhere.




New OcuSync transmission system offers up to 4.3 miles (7km) of transmission range.




Fly at up to 40mph (64kmh) or for as long as 27-minutes.




True 4K, fully stabilized ensures smooth footage




ActiveTrack, TapFly and other smart features make professional looking video effortless.




Obstacle Avoidance combined with sensor redundancy increases flight safety and reliability.




Vision positioning paired with GPS and GLONASS ensures precise positioning indoor and outdoors.




Fly by Phone over Wi-Fi for even easier flight
Features
Details
---
DJI MAVIC

PRO




The DJI Mavic Pro folds down as small as a bottle of water, making it small enough to bring with you everywhere.

New OcuSync transmission system offers up to 4.3 miles (7km) of transmission range.

Fly at up to 40mph (64kmh) or for as long as 27-minutes.

True 4K, fully stabilized ensures smooth footage

ActiveTrack, TapFly and other smart features make professional looking video effortless.

Obstacle Avoidance combined with sensor redundancy increases flight safety and reliability.

Vision positioning paired with GPS and GLONASS ensures precise positioning indoor and outdoors.

Fly by Phone over Wi-Fi for even easier flight
---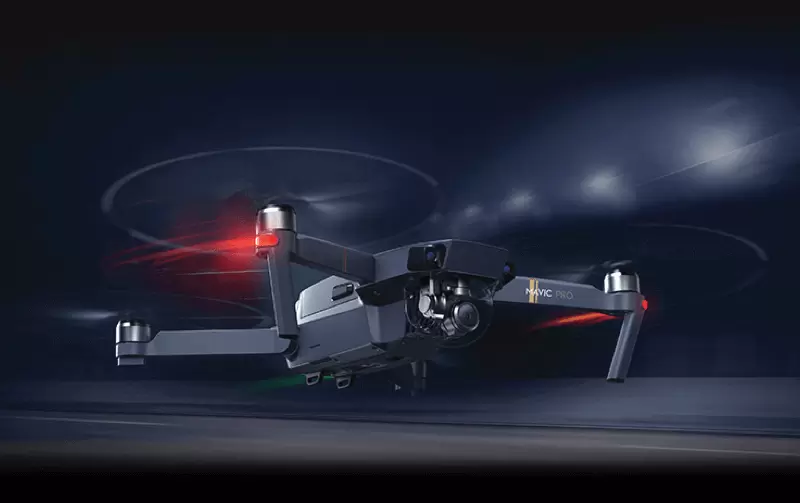 MAVIC

PRO
WHEREVER YOU GO
The DJI Mavic Pro is a small yet powerful drone that turns the sky into your creative canvass easily and without worry, helping you make every moment an aerial moment. Its compact size hides a high degree of complexity that makes it one of DJI's most sophisticated flying cameras ever. 24 high-performance computing cores, an all-new transmission system with a 4.3mi (7Km) range, 4 vision sensors, and a 4K camera stabilized by a 3-axis mechanical gimbal, are at your command with just a push of your thumb or a tap of your finger.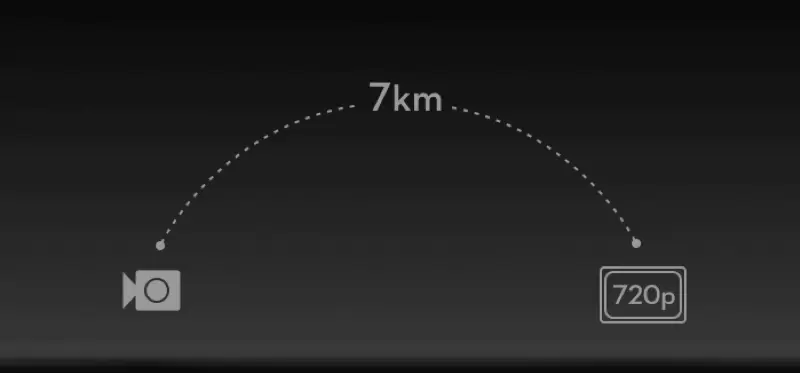 FLY FOR MILES. FROM YOUR POCKET.
Inside the Mavic's pocket-sized remote controller is DJI's brand new OcuSync transmission technology, with a range of 4.3mi (7km)* and Full HD 1080p/720p video streaming.
*FC complaint, without obstacles or interference.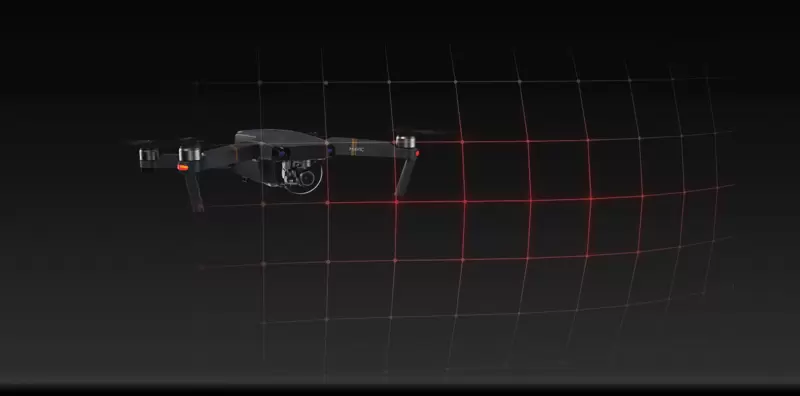 NO BUMPS AND SCRAPES
When you know what's in front of you, you won't bump into it. The same is true of the Mavic. Using FlightAutonomy it can see obstacles as far away as 49ft (15m) in front, so that it can fly at up to 22mph (36kph) while avoiding the things it sees.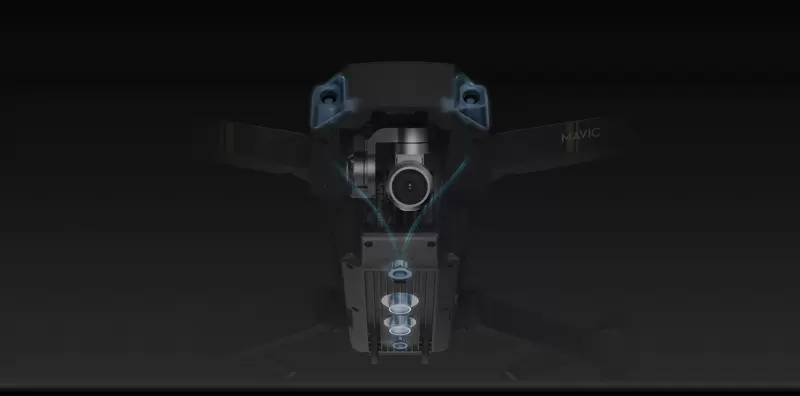 ABSOLUTE PRECISION
FlightAutonomy technology means the Mavic can hover precisely in more environments, and automatically land almost exactly where you took off.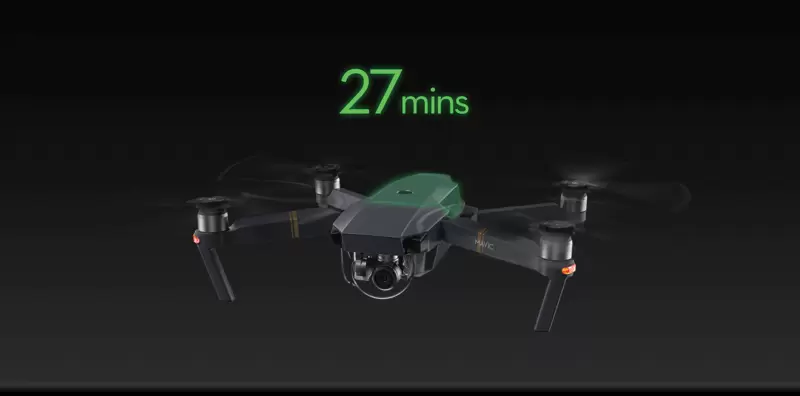 STAYING FLYING LONGER
Why fly for 10 or 15 minutes when you can fly for up to 27*? With the Mavic you can.
*Tested in a lab under optimum conditions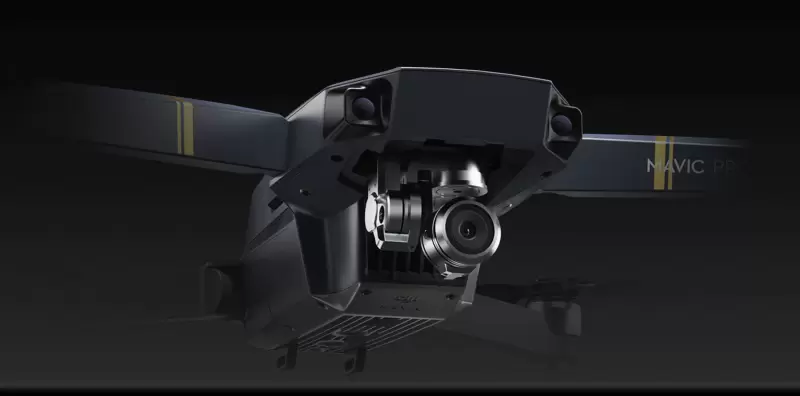 USE EVERY SINGLE PIXEL
The Mavic is the only drone of its size to carry an integrated high-precision 3-axis mechanical camera stabilization system, giving you crystal clear photos and smooth videos, without losing a single pixel.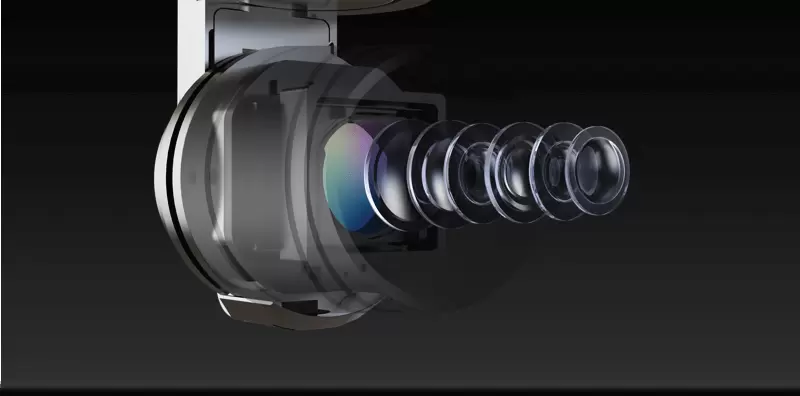 TRUE 4K VIDEO. NO COMPROMISES.
When you have a 4K sensor, you expect 4K results without compromises. Every shot you take with the Mavic Pro can be up to 4K, captured at 30 frames per second.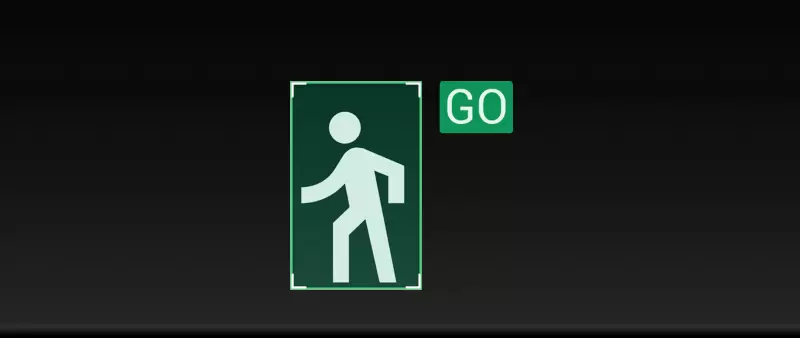 SHOOT LIKE A PRO. AUTOMATICALLY.
You will not need a film crew when you fly the Mavic because all you need is ActiveTrack. Just tell it who to track and it handles the rest, making you shoot like a pro.
Trace – Follow behind or in front of your subject, or circle it as it moves.
Profile – Fly alongside your subject.
Spotlight – Keep the camera trained on your subject while you fly almost anywhere.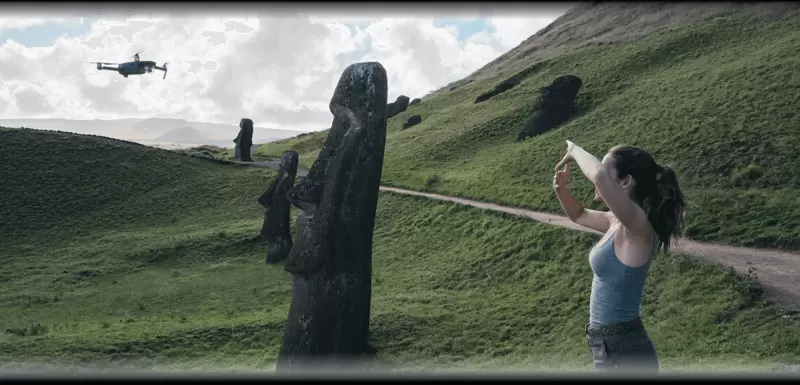 GET IN THE FRAME
Get selfies like you've never seen before with Gesture Mode. With the Mavic in the air pointing at you, a gesture is all it takes to take a photo.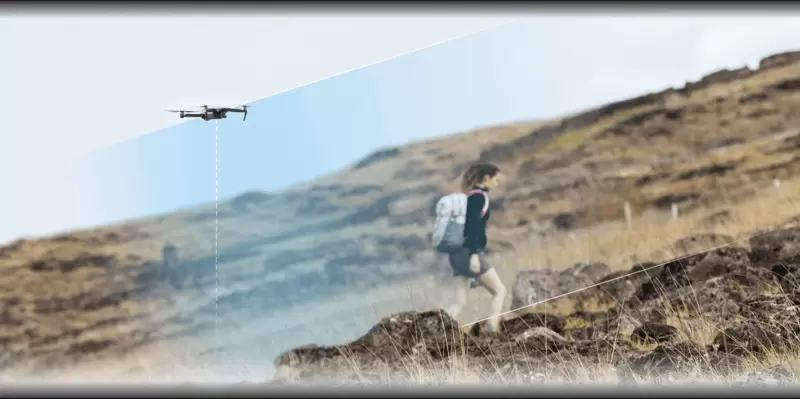 LEVEL HEADED
Stay at the same level height above the ground automatically. Don't worry about flying too low, the Mavic will keep you at just the right height over uneven terrain.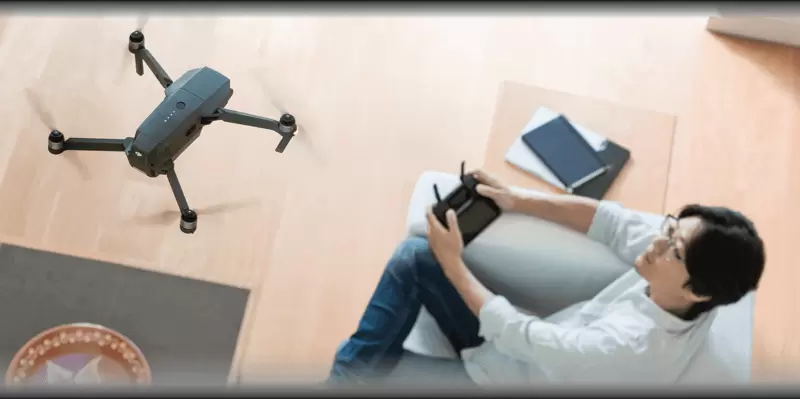 FINELY TUNED CONTROL
If you are lining up a photo, or even flying indoors, you don't want to fly quite so fast. Flip on Tripod Mode and every move the Mavic makes becomes precise and slow.

AT YOUR COMMAND

The Mavic acts on your every instruction instantly. Whether you want to shoot a slow, graceful flowing shot, or get your blood pumping with the 40mph (65kph) Sport Mode.

SEE THE WORLD LIKE A BIRD

Fly with a turn of your head and see the world from the eyes of a bird when you wear the super high quality wireless DJI Goggle.
FLY BY PHONE

Maybe all you want to do is grab a quick dronie, set up tracking to shoot a friend, or even just head skywards for a quick flight. All you need is your phone.

A TAP IS ALL IT TAKES

Flying could not be any easier, all you have to do is tap where you want to go. There is no better way to give your friends and family a taste of flying, while you stay in complete control.
SHOOT. EDIT. SHARE

You have shot the most incredible scene imaginable. Now you can edit it with just a few taps in the DJI GO Editor, and share it instantly for all the world to see.

TWICE THE SENSOR
TWICE AS RELIABLE

On a drone, the most likely source of a problem is a sensor not working exactly as it should. This is why the Mavic has two of each key sensor. If one goes wrong, the other kicks in to take its place.
EASIER, SMARTER,
SAFER BATTERIES

Before DJI Intelligent Flight Batteries, powerful drone batteries could be unreliable. But with their own integrated brains, DJI batteries are as easy and safe to use as a regular rechargeable.

A GLANCE IS ALL YOU NEED

Through the DJI GO app you see everything the camera sees, as well as everything you need to know about your Mavic, from battery life to where it is, to where it is heading and much more.
Specs
AIRCRAFT
Weight (Including Battery):
1.62 lbs (734 g) (exclude gimbal cover)
1.64 lbs (743 g)(include gimbal cover)
Max Ascent Speed:
16.4 ft/s (5 m/s) in Sport mode (Sport mode)
Max Descent Speed:
9.8 ft/s (3 m/s)
Max Speed:
40 mph (65 kph) in Sport mode without wind (Sport mode)
Max Service Ceiling Above Sea Level:
16404 feet (5000 m)
Max Flight Time:
27 minutes (0 wind at a consistent 15.5 mph (25 kph))
Max Hovering Time:
24 minutes (0 wind)
Overall flight time:
21 munites ( In normal flight, 15% remaining battery level )
Max Flight Distance:
8 mi (13 km, 0 wind)
Operating Temperature Range:
32° to 104° F (0° to 40° C)
GPS Mode:
GPS / GLONASS
OBSTACLE SENSING SYSTEM
Obstacle Sensory Range:
Precision measurement range: 2 ft (0.7 m) to 49 ft (15 m)
Detectable range: 49 ft (15 m) to 98 ft (30 m)
Operating Environment:
Surface with clear pattern and adequate lighting (lux > 15)
CAMERA
Sensor:
1/2.3" Effective pixels:12.35 M (Total pixels:12.71M)
Lens:
FOV ( Field Of View ) 78.8° 28 mm ( 35 mm format equivalent ) f/2.2
Distortion < 1.5% Focus from 0.5 m to ∞
ISO Range:
100 - 3200 ( video ) 100 - 1600 ( photo )
Shutter Speed:
8 s to 1/8000 s
Max Image Size:
4000×3000
Still Photography Modes:
Single shot
Burst shooting: 3 / 5 / 7 frames
Auto Exposure Bracketing ( AEB ): 3 / 5 bracketed frames at 0.7 EV Bias
Interval
Video Recording Modes:
C4K: 4096×2160 24p
4K: 3840×2160 24/25/30p
2.7K: 2704×1520 24/25/30p
FHD: 1920×1080 24/25/30/48/50/60/96p
HD: 1280×720 24/25/30/48/50/60/120
Max Video Bitrate:
60 Mbps
Supported File Systems:
FAT32 ( ≤ 32 GB ); exFAT ( > 32 GB )
Photo:
JPEG, DNG
Video:
MP4 / MOV ( MPEG – 4 AVC / H.264 )
Supported SD Cards:
Micro SD@trade;, Max capacity: 64GB. Class 10 or UHS-1 rating required
Operating Temperature:
32° to 104° F ( 0° to 40° C )
CHARGER
| Voltage: | 13.05 V |
| --- | --- |
| Rated Power: | 50 W |
GIMBAL
Controllable Range:
Pitch -90° to +30°
Roll: 0° or 90° (Horizontally and vertically)
Stabilization:
3-axis (pitch, roll, yaw)
VISION POSITIONING
| Velocity Range: | ≤22.4 mph (36 kph) at 6.6 ft (2 m) above ground |
| --- | --- |
| Altitude Range: | 1 - 43 feet (0.3 - 13 m) |
| Operating Range: | 1 - 43 feet (0.3 - 13 m) |
| Operating Environment: | Surface with clear pattern and adequate lighting (Lux > 15) |
REMOTE CONTROLLER
Operating Frequency:
2.4 GHz to 2.483 GHz
Max Transmission Distance:
FCC Compliant: 4.3 mi ( 7 km );
CE Compliant: 2.5 mi ( 4 km )( Unobstructed, free of interference )
Operating Temperature:
32° to 104° F ( 0° to 40° C )
Battery:
2970mAh
Transmitter Power ( EIRP ):
FCC: ≤26 dBm
CE: ≤20 dBm
Operating Voltage:
950mA @ 3.7V
Supported Mobile Device Size:
Thickness Supported:6.5-8.5mm
Max length: 160mm
Supported USB port types: Lightning, Micro USB(Type-B),USB(Type-C)™
INTELLIGENT FLIGHT BATTERY
| Capacity: | 3830 mAh |
| --- | --- |
| Voltage: | 11.4 V |
| Battery Type: | LiPo 3S |
| Energy: | 43.6 Wh |
| Net Weight: | Approx.0.5 lbs(240 g) |
| Operating Temperature: | 41° to 104° F ( 5° to 40° C ) |
What's Included
Reviews
Customer Reviews (64)
Very sophisticated drone with the great picture and reliability on the range!

Review by

Zmaster90

---

My review of the Mavick pro drone is that it is an excellent drone for its price point has all the features of any other drone with a much smaller package and is for perceives it is competitors I would highly recommend anybody that serious about getting a drone to get this drone I'm sure it will be one of the best for a while. (Posted on 3/16/2017)

Mavic Pro Combo - Great Deal!

Review by

emp

---

It was hard to pass up the combo package with all of the extras. Looking at the combo from Drone-World made it the proverbial "no brainer." Even though DJI had shipping issues, Drone-World was awesome in continued communications and updates to assure me the order had not been forgotten. They even offered to refund the order if I choose not to wait. Since everyone was impacted by this issue, I waited it out. Drone-World sent me an email letting me know when orders were about to resume and where I was "in line." They turned what could have been a frustrating ordeal into a purchase with peace of mind. I will definitely make Drone-World my go-to partner for all future purchases. (Posted on 3/16/2017)

Mavic Review

Review by

TS

---

Best drone for the price. Drone World kept me informed throughout the process. (Posted on 3/11/2017)

Great Drone Package!

Review by

Best Prices!

---

Drone world did a great job putting together a high-quality package DJI mavic Pro. I'm very happy with the purchase anyone looking for a great drone package I would recommend to buy this one from drone world you will thank me later! (Posted on 3/9/2017)

A very good piece of gear!

Review by

Vatomatic

---

The Mavic Pro is a quantum leap in airborne camera systems.
You cannot beat the robust physical quality, portability, flight stability, excellent camera, flight time, and the variety of flight modes. As one that travels for a living, the Mavic Pro is a no kidding stuff-into-your-suitcase system always ready for a shoot. With a hand grip adapter I use it as a gimbal stabilized handheld camera too. The "Fly More" combo affords the needed accessories and batteries to complete a typical photo/video mission.
Buy one NOW from Drone World! (Posted on 3/8/2017)

Mavic is amazing

Review by

Fred

---

Love my mavic I got from Drone World. Small to carry, great to fly. Having the three batteries and the charging hub are so helpful. I couldn't ask for more, except maybe 4 batteries. LOL


(Posted on 3/7/2017)

Great drone!

Review by

Tradd11

---

Great experience buying the Fly More package! Communication was great with DW and it was shipped fast as soon as DJI got it to DW! (Posted on 3/6/2017)

Better than expected!

Review by

KelvinM

---

Very easy to use. This is my first drone and it is user friendly. The price was a deal and the platform / size of the drone is awesome. The mavic drone is a much better drone then competitor lesser quality drones. This video footage is just better. (Posted on 3/6/2017)

I like it

Review by

Tom

---

Still learning to fly! Tech support at DW is helpful for us beginners. (Posted on 3/6/2017)

The Golden Bird

Review by

E

---

The Mavic is a must buy for any person looking to travel and get great areal shots. Drone World was straight forward with shipping and great to work with as far as customer service goes. This is your one stop shop for all your drone needs!! (Posted on 3/6/2017)

Awesome purchase experience!

Review by

CG

---

Great product, customer service and pricing! (Posted on 3/6/2017)

Outstanding Unit

Review by

Ed

---

When I received the package, and opened, it was packed very well and no damage to the outer box. The goods inside were all packed nicely and after opening every thing,I was very impressed with the Mavic Pro.
The best thing is able to charge all the batteries at once and while doing that, reading all the info on the bird, and with the yak weather, gave me the chance to get to know the Mavic and all the features that it has, more than my P3a. I got all the settings set and checked, before the first flight. When that happened, this little guy is sweet, quiet and responsive. The filming I did on the first flight was the best I have seen, so clear and the colors were great, without going to the computer. I did my homework before I got it. It pays to read up and watch the you-tube tutorials, and put all that to use. No crash, just fly.
Thank you Drone World it was worth it...
Aloha, Ed (Posted on 3/6/2017)

Great product, would recommend this to everyone!

Review by

Woody

---

Excellent drone, easy to fly with great response and picture quality! Would recommend this to anyone and excellent service. (Posted on 3/5/2017)

Great experience

Review by

Excellent service

---

Thankful for the helpful team, got overnight shipping and continued support.
Thanks again (Posted on 3/5/2017)

Great experience

Review by

BF

---

I had great communication from drone world throughout and even got my drone overnight for free.
Thanks for the great service.
(Posted on 3/5/2017)

Just as expected - awesome!

Review by

Baz

---

I have been using a phantom 3 for a while now so have been really excited to get my hands on the Mavic Pro. It does not disappoint. I love the fact the I have not needed to compromise on video quality or performance for size. I understand that it doesn't perform as well in windier conditions but it has been very stable and a pleasure to fly so far. I would thoroughly recommend this drone! (Posted on 3/3/2017)

Awesome!!!

Review by

Stanley

---

Finally received our drone...definitely worth the wait! The drone exceeds our imagination and look forward to testing out all the options!! Drone-World was wonderful in customer service and kept us informed on the status is the shipping. I would recommend both!! (Posted on 2/26/2017)

The best!

Review by

bb

---

My experience with drone world was amazing! (Posted on 2/25/2017)

Drone Worl Great people very professionals on the busines fun Machine ,,Good QUALITY, FUN TO PLAY WITH...!!

Review by

MAVICMAN

---

Drone World was the one with the best price and reviews. Shipping was fast and good since that is what people want when ordering a toy. delivery as they promised top notch.
i recommend you if you are looking for a new Drone.
i received my DJI Mavic Pro on time as they promised.

(Posted on 2/23/2017)

What a game changer!

Review by

Corey

---

Received my DJI Mavic Pro "Fly More Combo" a couple of weeks ago. Droning has a steeper learning curve compared to other hobbies, but i'm beginning to get the hang of flying and what a great experience it is! The quality of the drone is top notch, as is Drone World's excellent customer service, and the size of this thing is a game changer (the Mavic fits in my back pocket!) I have never had a more pleasurable experience while ordering anything online. If you are thinking about picking up a drone, the DJI Mavic Pro is the one you want and Drone World is where you want to get it! (Posted on 1/19/2017)
Write Your Own Review
Videos
Q & A
Upgrades