Features
Details
Extend Your Range and Fly Safer!

Better reception than factory antenna when near, when far, when behind trees, when around around other WiFi interference.

Expertly installed by Drone World Techs - Already have a Phantom 4? Send in your current remote to be upgraded and we'll ship back at no extra charge!

Simply Point Antenna at Your Drone

Will NOT Void Your Warranty

Other Antenna Systems Will Void Your Warranty

No drilled holes, No cut plastic. Installed through factory antenna ports.
Already have a Phantom 4? Send us your remote controller and we'll cover the shipping back to you! To send your RC after purchase, please print your order's confirmation email or invoice and include it inside the box. Clearly display your order# on the outside of the box also.
Send RC* with order information to:
Drone World
(Order#)
22815 Savi Ranch Pkwy Unit E
Yorba Linda, CA 92887
*Package remote safely and carefully. We recommend getting tracking information for your shipment and insuring your RC. We are not responsible for any packages lost, stolen or damaged during transit.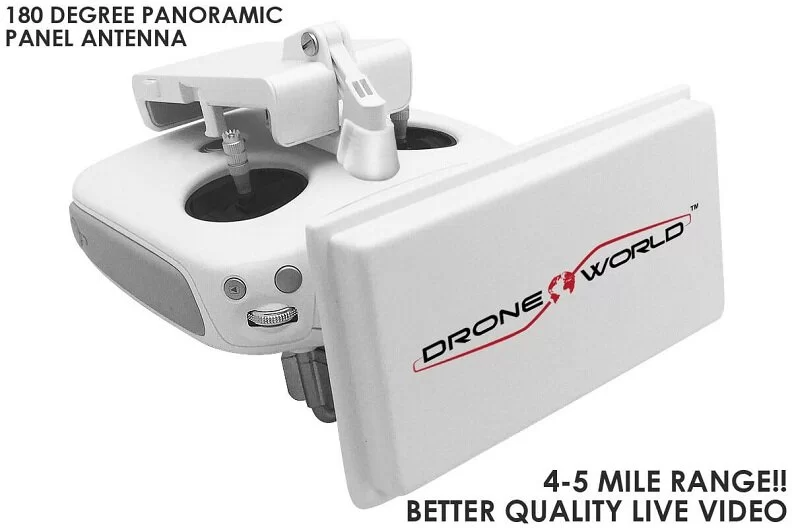 The Ultimate "Flying" Machine
Everyone knows BMW as the "Ultimate Driving Machine." Taking a page out of the German car manufacturer's book, Drone World went to Europe for its ultimate flying machine. Drone World's Range Extender Panel Antenna was developed in partnership with the European Union Association of Technology and leading US suppliers. Using commerical-grade, gold-plated wiring, while taking cues from BMW with a sleek design featuring white-on-white simplicity and style, the resulting 180° panel antenna range extender was created and fitted to the Phantom 4 remote controller for unrivaled connection between craft and pilot.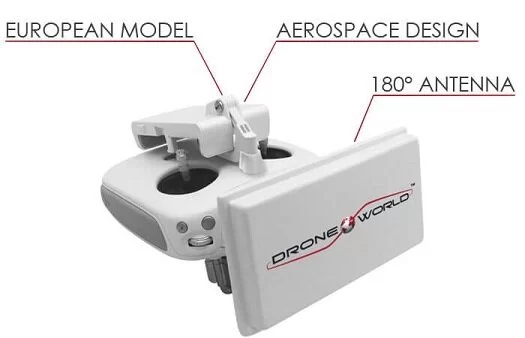 Aerospace Engineered
Surpassing an industry-standard like the current range of the Phantom 4 is no easy task. You'll need the brightest minds and engineers in the business. Drone World spared no expense, bringing in a head engineer with aerospace industry expertise and FAA credentials.
The result is a range extender system that does not require a HAM radio license, while being designed with the most cutting edge technology available. That means we're talking 4 to 5 miles of range in ideal conditions. And using approved tech that is safe from wind, heat and frequency interference.

More Power, More Range
If you're going to fly farther than anyone else, you'd better have the juice to do it. Drone World's range extender system was designed with a panel antenna to not only look different but perform different, too. Upgrading to the panel antenna means 180° of coverage emanating from your fingertips. Combine that with 4x more power and the resulting signal penetrates through trees and isn't affected as badly by pesky wi-fi signals generated from commerical transmitters and home routers in your area.
So what does all this mean in the end? Better technology, advanced design, genius engineers and a Phantom 3 that flies up to 5 miles is impressive. But there's more. Greater distance in a straight line isn't enough. That's thinking only linearly. Drone World's long range system has maximized the Phantom's range up to 5x in a straight line but applied to the area of coverage in 360°, the added area of what your Phantom can see is exponential. Five miles turns into 17x the area a stock Phantom could survey and film, opening up an endless amount of possibilites.
Reviews
Videos
Upgrades