Features
Details
Extend Your Range and Fly Safer! 10x MORE POWER

Fully internalized WiFi boosters

No troublesome external boosters or batteries

No aftermarket charger needed

Half the size of competing systems

Better penetration through trees and around buildings

Featured Highlight: Maintain Full Resolution Video Feed without distortion across miles of

range

at ultra low elevations
Already own a Phantom 4? Send us your remote and we'll ship it back to you for FREE.* Just mail your remote with your order confirmation or invoice. Make sure you label your order number on the outside of your box to:
Drone World
(Order #)
22815 Savi Ranch Pkwy Unit E
Yorba Linda, CA 92887
*Package remote safely and carefully. We recommend getting tracking information for your shipment and insuring your RC. We are not responsible for any packages lost, stolen or damaged during transit.


The Ultimate "Flying" Machine
Drone World set a high bar with its Phantom 3 Range Extender System. Designed in conjunction with European aerospace engineers, the original Range Extender yielded incredible signal range: Longer, stronger, and clearer than all the competition. That strong and reliable signal, as well as a lean and compact design, owes to the great talent of the European Union Association of Technology and Drone World's major partners here in the States. Like the previous gen, the Phantom 4 Range Extender by Drone World incorporates industry-leading, gold-plated wiring and connections, combined with a sleek and simple form. That great combination drives 180° antennae range, all mounted onto DJI's factory Phantom 4 remote.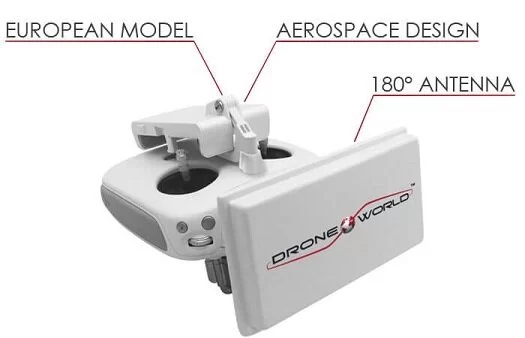 Precision Engineered
The Phantom 4 Range Extender is the cleanest design and most powerful system on the market--bar none. Drone World's past experience in pushing technical boundaries gave its team the confidence to repeat their success with the Phantom 4. Sure enough, Drone World's techs disassembled and refined the Range Extender System, all while preserving the light, compact form of the original. Not only that, the Phantom 4 Range Extender is resistant to heat-, wind-, and other signal interference. Even with its enhanced signal range, Phantom 4 pilots still need not worry about requiring a HAM radio license or any new certifications while pushing farther.

Expand Your Horizon
The Drone World Range Extender features an integrated antennae that's seamlessly melded into the panel, while suffering no signal loss. Pilots have 180° of signal coverage right off the bat, emitting six watts--or TEN TIMES--the power of the factory remote. That added power enables the Phantom 4 Range Extender to pierce through trees, posts, bushes, and other common outdoor obstacles from up to 5 miles away. That added power also helps overcome the all-too-common WiFi interference from residential and commercial transmitters.


So don't let the 3-mile factory range of the Phantom 4 hold you back. Order your Drone World Phantom 4 Range Extender today and expand your horizons by miles.


Reviews
Q & A
Product Questions
No questions yet. Be the first to ask the question!
Upgrades