Features
Details
Our DJI Inspire 1 v2.0 Drone Kit Includes Inspire 1 v2.0 Drone, Case, Netural Density Lens Filter, 16gb MicroSD, Harness, Remote, Props, Charger, Cables, etc.
Version 2.0 (V2.0): New motor's with performance improvements, providing a greater sense of control, and new propulsion system's propeller and installation kits feature a smoother, even more reliable locking mechanism.
Advanced Ready-to-Fly Design
Imagine holding the future in your hands. Designed to be powerful while lightweight, flexible while providing the stability you need, the Inspire 1 is DJI's most advanced complete package. All of the latest aerial technology is packed into one simple, ready-to-fly system, putting you in the sky within minutes.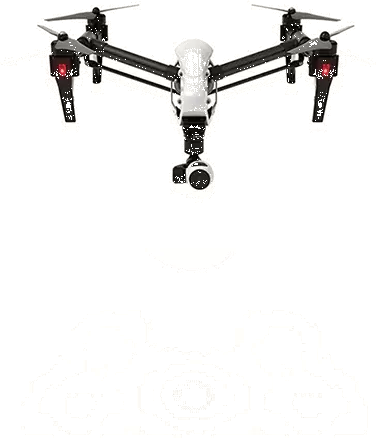 4k Camera
Shoot up to 4K video and capture 12 megapixel photos with the Inspire 1 camera. The lens consists of 9 elements in 9 groups including an aspherical element producing extreme clarity, while Adobe DNG RAW support gives you the power to make every shot a masterpiece. Everything is better in 4K.
Advanced Design
Strong carbon fiber arms lift out of sight, transforming the way you shoot. Get a full, unrestricted 360° view of the world below and create images like never before.
Live HD View
A real-time feed from your Inspire 1's camera is displayed in 720p HD on your mobile device giving you a perfect view of what the camera sees to frame your shots. This is made possible by an all new and improved version of DJI's Lightbridge technology which can transmit video from up to 2km away.
Ready-to-Fly Design

One button take-off and landing.
Superior Power

Engineered for advanced flight and efficiency.
Transforming Design

Full 360° views with Inspire 1's raising arms.
Customizable

Removable camera & gimbal give you the freedom to upgrade.
4K CAMERA

Big Screen-ready Footage.
Live HD View

See the world from a new perspective.
Dual Remote Capability

Get the shot with independent flight and camera control.
Go Anywhere

Fly indoors and without GPS using Vision Positioning system.
Full-Featured App

Complete control all with one touch.
Take Full Control

The most sophisticated remote control system to date.
One Touch Flight

Easy to fly right out of the box.
Specs
Aircraft

Weight (Battery Included)

2935 g

Hovering Accuracy (GPS Mode)

Vertical: 0.5 m
Horizontal: 2.5 m

Max Angular Velocity

Pitch: 300°/s
Yaw: 150°/s

Max Speed

22 m/s (ATTI mode, no wind)

Max Flight Altitude

4500 m

Max Wind Speed Resistance

10 m/s

Max Flight Time

Approximately 18 minutes

Indoor Hovering

Enabled by default

Operating Temperature Range

-10° to 40° C

Diagonal Distance

559 to 581 mm

Dimensions

438x451x301 mm

Gimbal

Output Power (With Camera)

Static: 9 W
In Motion: 11 W

Operating Current

Station: 750 mA
Motion: 900 mA

Angular Vibration Range

±0.03°

Controllable Range

Pitch: -90° to +30°
Pan: ±320°

Mechanical Range

Pitch: -125° to +45°
Pan: ±330°

Max Controllable Speed

Pitch: 120°/s
Pan: 180°/s

Camera

ISO Range

100-3200 (video)
100-1600 (photo)

Electronic Shutter Speed

8s - 1/8000s

Lens

20mm (35mm format equivalent)f/2.8 focus at ∞
9 Elements in 9 groups
Anti-distortion

Still Photography Modes

Single shoot
Burst shooting: 3/5/7 frames
Auto Exposure Bracketing (AEB): 3/5 bracketed frames at 0.7EV Bias
Time-lapse

Video Recording Modes

UHD (4K): 4096x2160p24/25, 3840x2160p24/25/30
FHD: 1920x1080p24/25/30/48/50/60
HD: 1280x720p24/25/30/48/50/60

Max Bitrate Of Video Storage

60 Mbps

Supported File Formats

FAT32/exFAT
Photo: JPEG, DNG
Video: MP4/MOV (MPEG-4 AVC/H.264)

Supported SD Card Types

Micro SD
Max capacity: 64 GB. Class 10 or UHS-1 rating required.

Operating Temperature Range

0° to 40° C

Remote Controller

Operating Frequency

922.7~927.7 MHz (Japan Only)
5.725~5.825 GHz
2.400~2.483 GHz

Transmitting Distance (Outdoor And Unobstructed)

2 km

Video Output Port

USB, mini-HDMI

Power Supply

Built-in battery

Dual User Capability

Host-and-Slave connection

Mobile Device Holder

Tablet or Phone

Max Mobile Device Width

170mm

Operating Temperature Range

-10° to 40° C

Storage Temperature Range

Less than 3 months: -20° to 45° C
More than 3 months: 22° to 28° C

Charging Temperature Range

0-40° C

Charger
Battery (Standard)

Name

Intelligent Flight Battery

Battery Type

LiPo 6S High voltage battery

Operating Temperature Range

-10° to 40° C

Storage Temperature Range

Less than 3 months: -20° to 45° C
More than 3 months: 22° C to 28° C

Charging Temperature Range

0° to 40° C

Battery (Optional)

Name

Intelligent Flight Battery

Operating Temperature Range

-10° to 40° C

Storage Temperature Range

Less than 3 months: -20 to 45° C
More than 3 months: 22° to 28° C

Charging Temperature Range

0° to 40° C

Vision Positioning

Velocity Range

Below 8 m/s (2 m above ground)

Operating Environment

Brightly lit (lux > 15) patterned surfaces

DJI Pilot App

Mobile Device System Requirements

iOS 8.0 or later
Android 4.1.2 or later

Supported Mobile Devices

* Compatible with iPhone 5s, iPhone 6, iPhone 6 Plus, iPad Air, iPad Air Wi-Fi + Cellular, iPad mini 2, iPad mini 2 Wi-Fi + Cellular, iPad Air 2, iPad Air 2 Wi-Fi + Cellular, iPad mini 3, and iPad mini 3 Wi-Fi + Cellular. This app is optimized for iPhone 5s, iPhone 6, and iPhone 6 Plus.
* Samsung S5, Note 3, Sony Xperia Z3, Google Nexus 7 II, Google Nexus 9, Mi 3, Nubia Z7 mini
*Support for additional Android devices available as testing and development continues
What's Included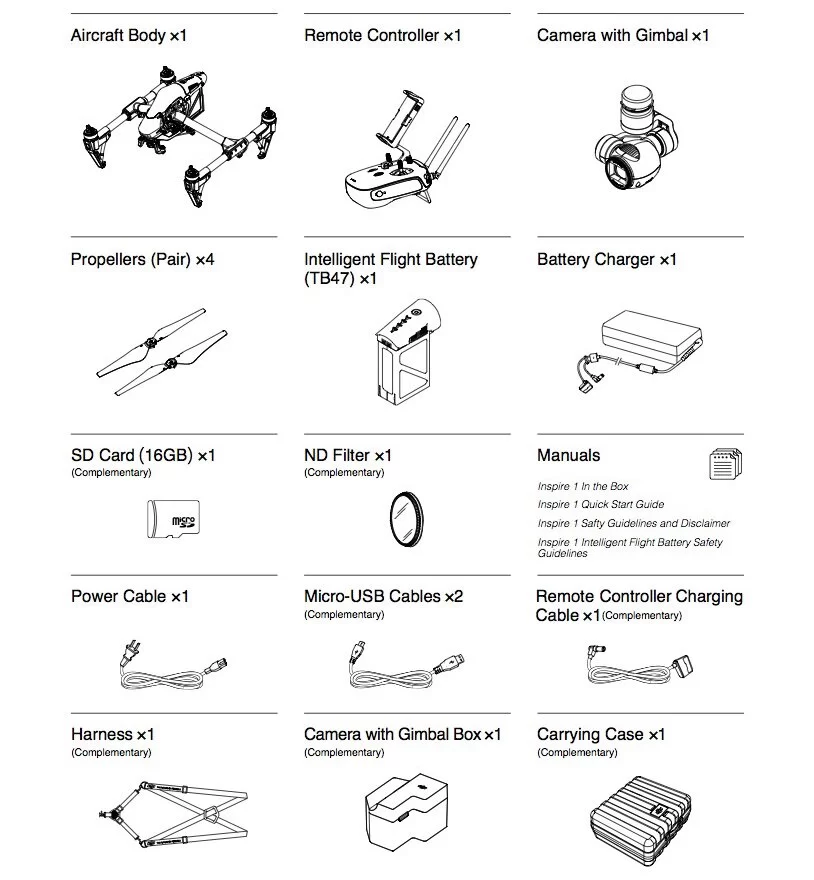 Aircraft Body x1
Remote Controller x1
Camera with Gimbal x1
Propellers (Pair) x4
Intelligent Flight Battery (TB47) x1
Battery Charger x1
SD Card (16GB) x1
ND Filter x1
Manuals
Power Cable x1
Micro-USB Cables x2
Remote Controller Charging Cable x1
Harness x1
Camera with Gimbal Box x1
Carrying Case x1
Reviews
Customer Reviews (2)
Trust Drone World.....

Review by

MAV

---

All my products arrived quickly and were packaged perfectly (Posted on 4/19/2016)

Great Product

Review by

Jared

---

We had a great experience with Drone World! Order was correct and fast! Thank you! We LOVE the INSPIRE 1! This is the Cadillac of drones! Great bundle and prices are spot on! (Posted on 12/24/2015)
Write Your Own Review
Videos
Q & A
Product Questions
No questions yet. Be the first to ask the question!
Upgrades