Kit Includes: MAVIC PRO , Exclusive Backpack, 2 Extra batteries (3 total), DW Mavic L-Series lens filters, 64gb MicroSD(

u3)

& USB 3.0 reader, charging hub, car charger, battery to powerbank adaptor, extra propellers, battery bank, iphone cable, lanyard,DW Camera Lens Cleaning Cloth, DW Mavic Pro Sunshade, and FREE Mini Drone.



The DJI Mavic Pro folds down as small as a bottle of water, making it small enough to bring with you everywhere.




New OcuSync transmission system offers up to 4.3 miles (7km) of transmission range.




Fly at up to 40mph (64kmh) or for as long as 27-minutes.




True 4K, fully stabilized ensures smooth footage




ActiveTrack, TapFly and other smart features make professional looking video effortless.




Obstacle Avoidance combined with sensor redundancy increases flight safety and reliability.




Vision positioning paired with GPS and GLONASS ensures precise positioning indoor and outdoors.




Fly by Phone over Wi-Fi for even easier flight
Features
Details
---
DJI MAVIC

PRO




The DJI Mavic Pro folds down as small as a bottle of water, making it small enough to bring with you everywhere.

New OcuSync transmission system offers up to 4.3 miles (7km) of transmission range.

Fly at up to 40mph (64kmh) or for as long as 27-minutes.

True 4K, fully stabilized ensures smooth footage

ActiveTrack, TapFly and other smart features make professional looking video effortless.

Obstacle Avoidance combined with sensor redundancy increases flight safety and reliability.

Vision positioning paired with GPS and GLONASS ensures precise positioning indoor and outdoors.

Fly by Phone over Wi-Fi for even easier flight
---
---
EXCLUSIVE BACKPACK
Slingshot Edge 150 AW

Designed for smooth operation and extra security. Rotate sling to front, unzip side-access pocket and grab kit to shoot. Body-side access to main compartment deters theft while you're on the go.

You're free to move about with ease thanks to the incredibly slim design, padded backpad and stability strap. The ideal sling for a day of touring, photo walking and/or commuting.

Get protection for your photo and personal gear inside and out. Slingshot Edge includes a fully adjustable and padded divider system for gear, and a built-in All Weather AW Cover™ to protect it from the elements.

Keep your favorite devices with you! A separate, CradleFit™ pocket keeps your tablet safe from impact. A roomy open zone for personal gear holds a smartphone, headphones, wallet, keys and other non-photo essentials.

A rugged and durable molded grab handle at top provides a second carry option.

Stay hydrated throughout your day and use the stretch side pocket to hold a water bottle or other quick-grab item.

Sling includes two removable straps with quick-release buckles for adding capacity.

The fast-access side pocket includes a zipper path from front to back so you can capture a shot in moments.
---
L-Series Premium Lens Filter Kit
Industry 1st Adjustable ND Filter & Polarized Lens Filter (16 protective coatings and waterproof vs stock filters have no coatings) both for amazing video quality in bright conditions.
Specifically Designed for The Mavic PRO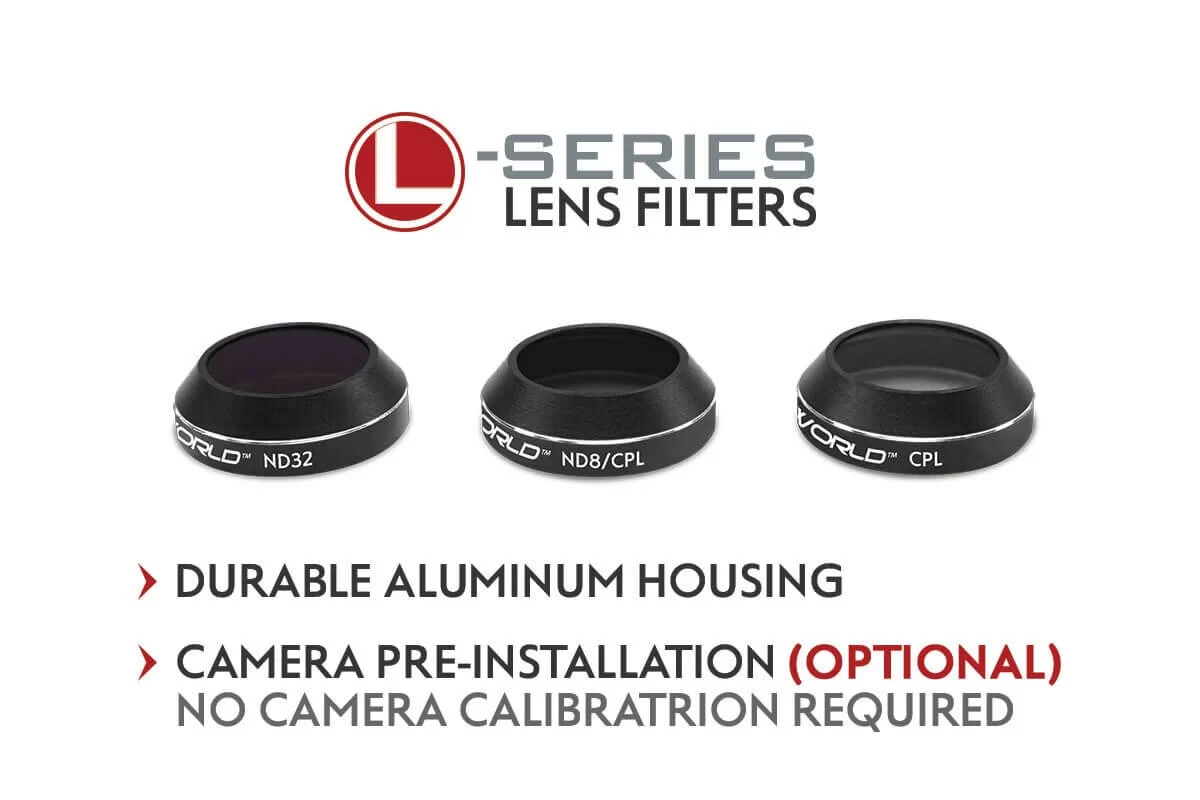 ---
Drone World DJI Mavic Pro Remote Sunshade
Specifically Designed for The Mavic PRO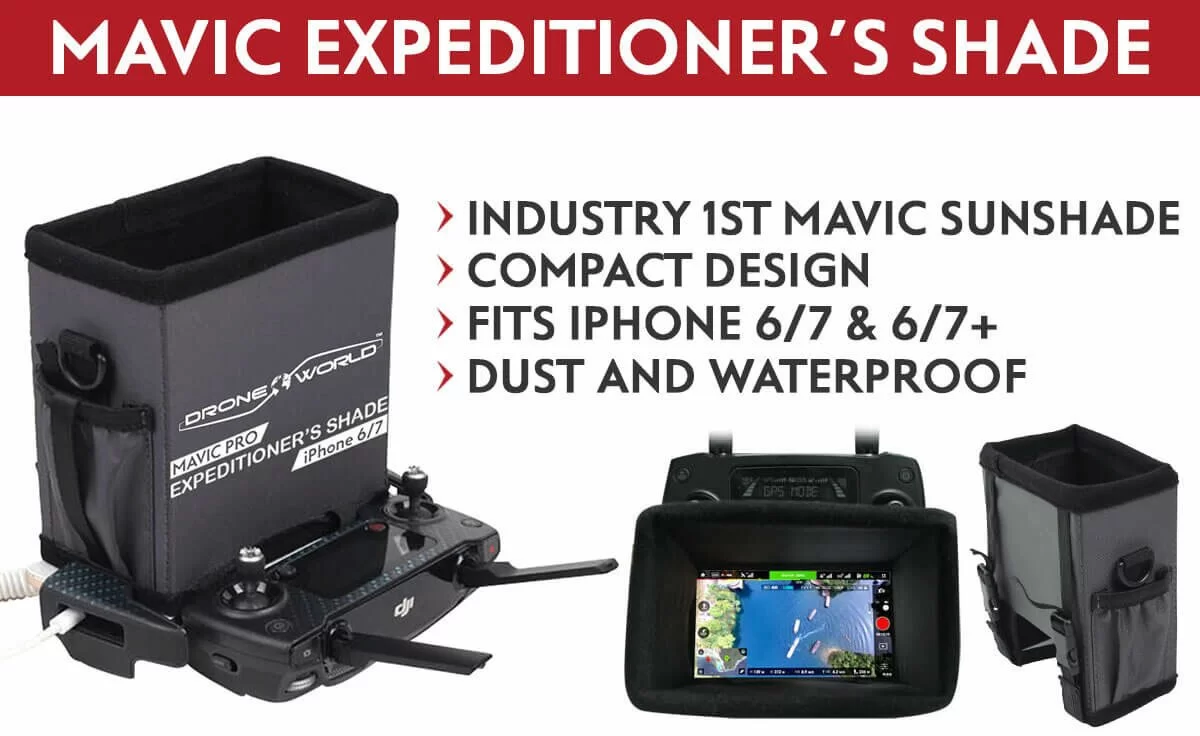 ---
EVERYTHING YOU NEED ACCESSORIES
Transcend 64GB High-Performance microSDHC 633x Class 10 UHS-I/U3 (Up to 95MB/s Read) Memory Card w/ USB 3.0 Reader

Quickly captures, stores, plays back, and transfers media files, including 1080p fullHD, and 4K video | Leverages UHS-1 technology for a transfer speed up to 633x (95MB/s).

Ultra Fast U3 Rating for the best Phantom 4 card on the market.

Includes highspeed, Class 10 card with a USB 3.0 reader to transfer files in seconds not minutes.

Store approximately 80 minutes of 4K video (about 4 battery packs worth of flight time) or 180 minutes of HD 1080p video.
Apple Lightning USB Device Cable

Drone World Brand

Compatable with all DJI Drones

Perfect 1 ft. length

MFI Apple Certified Lightning Cable for iPad / iPhone

2.5X power depending on your powered plug

Braided Nylon Wire, Hard Aluminum Connector
Drone World Power Bank Portable Battery Charger

Long Lasting High Capacity Power Bank

Keep your tablet, phone or drone accessories powered on the go

10,400mAh Battery Capacity with Dual Port Charging (Output: DC5V-1A & 2.1A)

Grade A Li-ion battery ensure relibability and over 500+ recharge cycles

Compatable with all iPhones, Galaxy's and any USB powered device

Built in LED flashlight

Compact Design - comfortably fits in pocket at 4.25" x 3" x 0.8"
Drone World Remote Controller Lanyard

Never lose control of your DJI Drone controller with our Drone World lanyard

Designed specifically for all DJI Drone remote controller

Adjustable length
---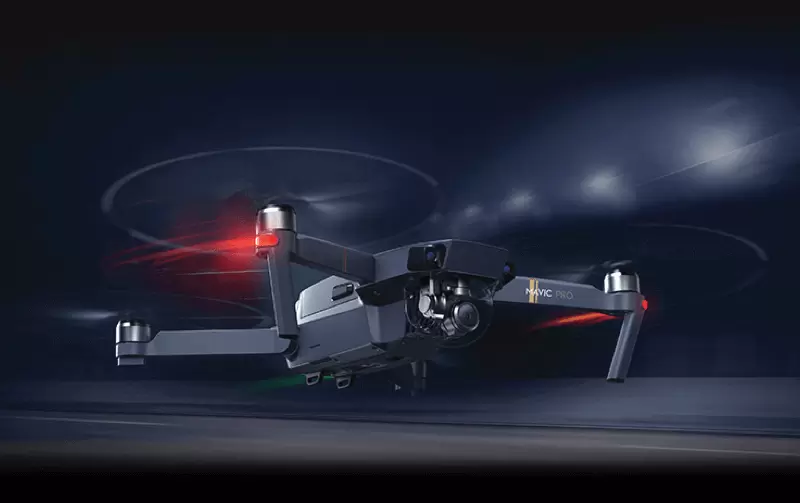 MAVIC

PRO
WHEREVER YOU GO
The DJI Mavic Pro is a small yet powerful drone that turns the sky into your creative canvass easily and without worry, helping you make every moment an aerial moment. Its compact size hides a high degree of complexity that makes it one of DJI's most sophisticated flying cameras ever. 24 high-performance computing cores, an all-new transmission system with a 4.3mi (7Km) range, 4 vision sensors, and a 4K camera stabilized by a 3-axis mechanical gimbal, are at your command with just a push of your thumb or a tap of your finger.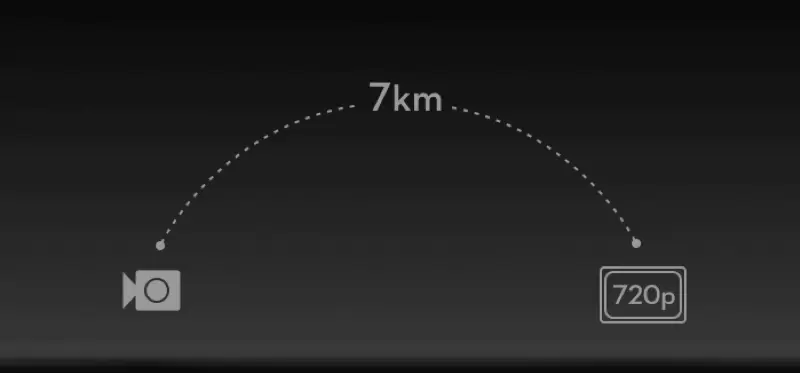 FLY FOR MILES. FROM YOUR POCKET.
Inside the Mavic's pocket-sized remote controller is DJI's brand new OcuSync transmission technology, with a range of 4.3mi (7km)* and Full HD 1080p/720p video streaming.
*FC complaint, without obstacles or interference.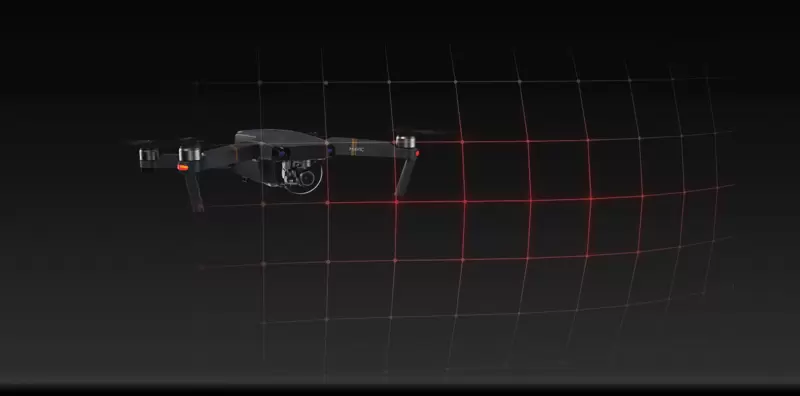 NO BUMPS AND SCRAPES
When you know what's in front of you, you won't bump into it. The same is true of the Mavic. Using FlightAutonomy it can see obstacles as far away as 49ft (15m) in front, so that it can fly at up to 22mph (36kph) while avoiding the things it sees.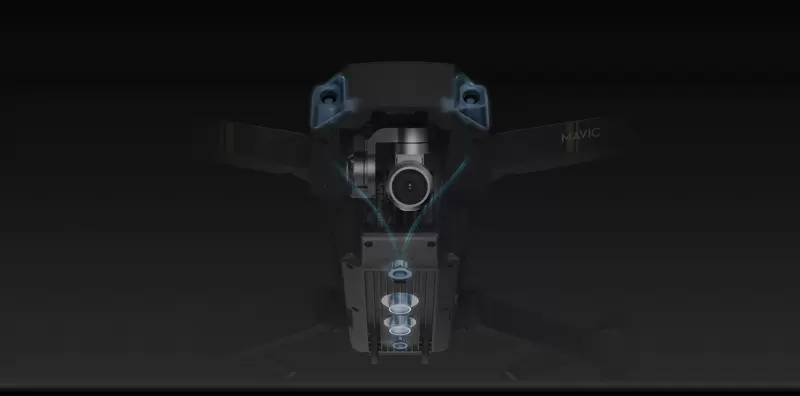 ABSOLUTE PRECISION
FlightAutonomy technology means the Mavic can hover precisely in more environments, and automatically land almost exactly where you took off.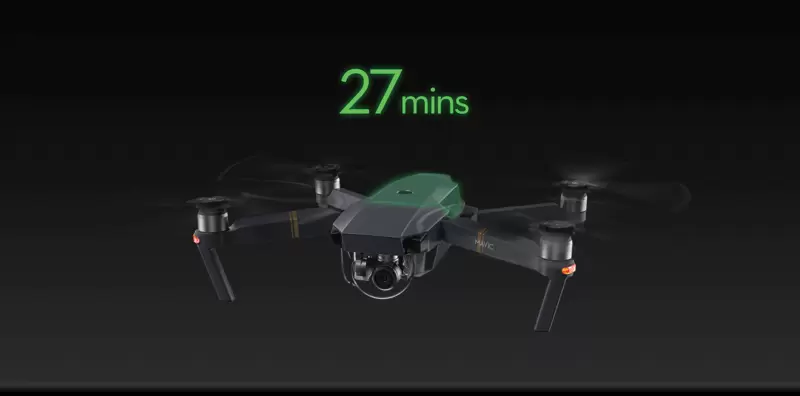 STAYING FLYING LONGER
Why fly for 10 or 15 minutes when you can fly for up to 27*? With the Mavic you can.
*Tested in a lab under optimum conditions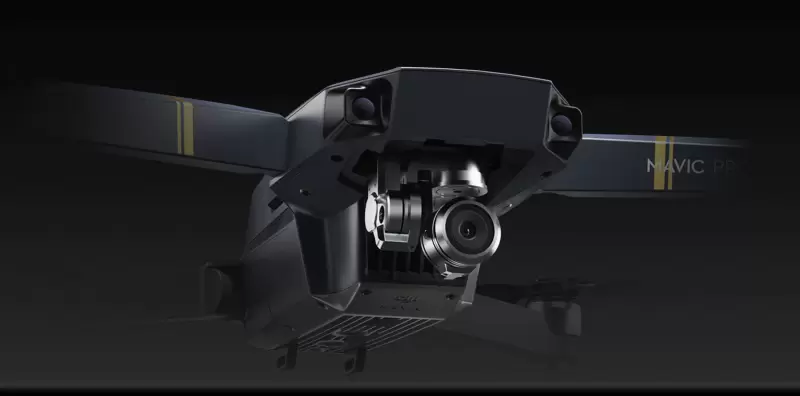 USE EVERY SINGLE PIXEL
The Mavic is the only drone of its size to carry an integrated high-precision 3-axis mechanical camera stabilization system, giving you crystal clear photos and smooth videos, without losing a single pixel.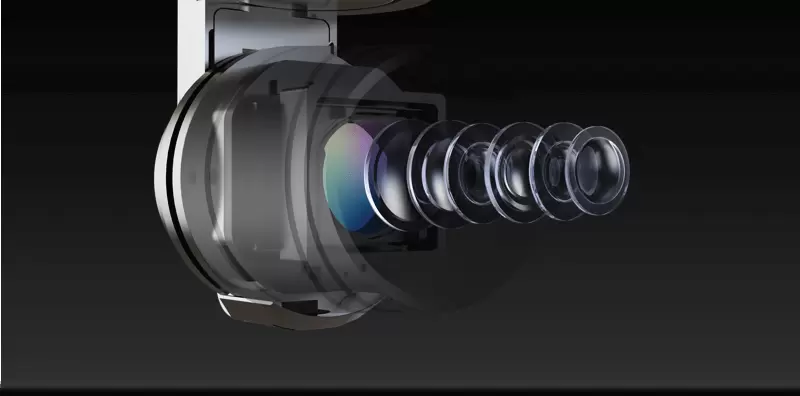 TRUE 4K VIDEO. NO COMPROMISES.
When you have a 4K sensor, you expect 4K results without compromises. Every shot you take with the Mavic Pro can be up to 4K, captured at 30 frames per second.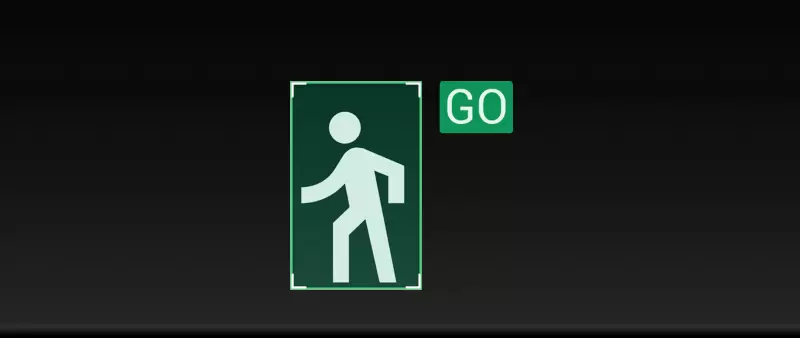 SHOOT LIKE A PRO. AUTOMATICALLY.
You will not need a film crew when you fly the Mavic because all you need is ActiveTrack. Just tell it who to track and it handles the rest, making you shoot like a pro.
Trace – Follow behind or in front of your subject, or circle it as it moves.
Profile – Fly alongside your subject.
Spotlight – Keep the camera trained on your subject while you fly almost anywhere.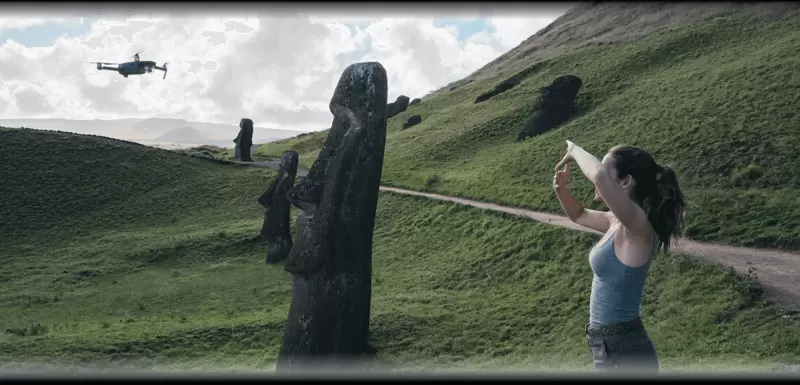 GET IN THE FRAME
Get selfies like you've never seen before with Gesture Mode. With the Mavic in the air pointing at you, a gesture is all it takes to take a photo.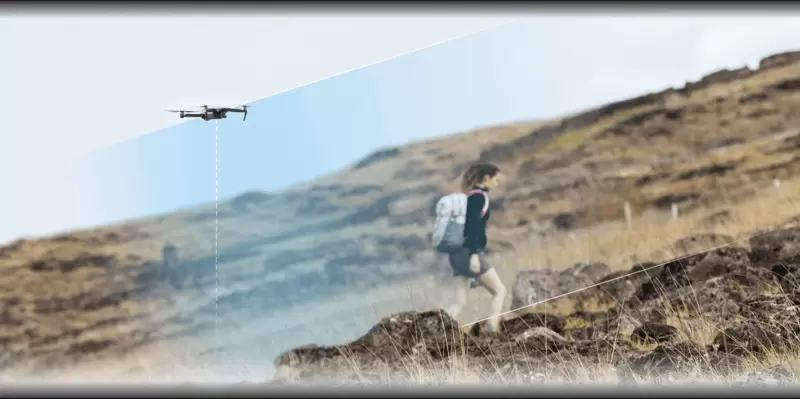 LEVEL HEADED
Stay at the same level height above the ground automatically. Don't worry about flying too low, the Mavic will keep you at just the right height over uneven terrain.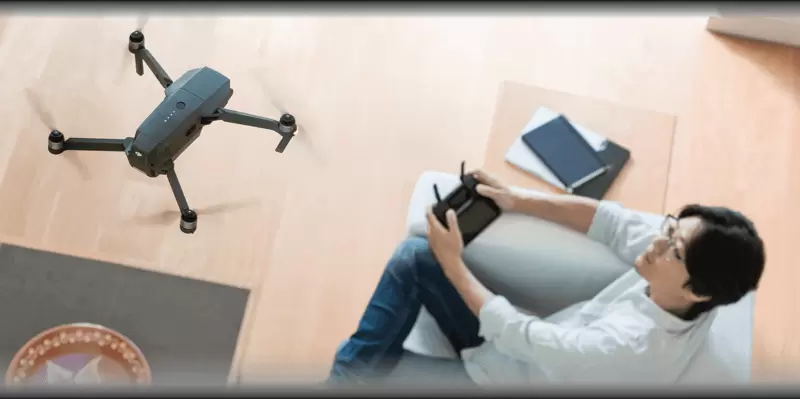 FINELY TUNED CONTROL
If you are lining up a photo, or even flying indoors, you don't want to fly quite so fast. Flip on Tripod Mode and every move the Mavic makes becomes precise and slow.

AT YOUR COMMAND

The Mavic acts on your every instruction instantly. Whether you want to shoot a slow, graceful flowing shot, or get your blood pumping with the 40mph (65kph) Sport Mode.

SEE THE WORLD LIKE A BIRD

Fly with a turn of your head and see the world from the eyes of a bird when you wear the super high quality wireless DJI Goggle.
FLY BY PHONE

Maybe all you want to do is grab a quick dronie, set up tracking to shoot a friend, or even just head skywards for a quick flight. All you need is your phone.

A TAP IS ALL IT TAKES

Flying could not be any easier, all you have to do is tap where you want to go. There is no better way to give your friends and family a taste of flying, while you stay in complete control.
SHOOT. EDIT. SHARE

You have shot the most incredible scene imaginable. Now you can edit it with just a few taps in the DJI GO Editor, and share it instantly for all the world to see.

TWICE THE SENSOR
TWICE AS RELIABLE

On a drone, the most likely source of a problem is a sensor not working exactly as it should. This is why the Mavic has two of each key sensor. If one goes wrong, the other kicks in to take its place.
EASIER, SMARTER,
SAFER BATTERIES

Before DJI Intelligent Flight Batteries, powerful drone batteries could be unreliable. But with their own integrated brains, DJI batteries are as easy and safe to use as a regular rechargeable.

A GLANCE IS ALL YOU NEED

Through the DJI GO app you see everything the camera sees, as well as everything you need to know about your Mavic, from battery life to where it is, to where it is heading and much more.
Specs
AIRCRAFT
Weight (Including Battery):
1.62 lbs (734 g) (exclude gimbal cover)
1.64 lbs (743 g)(include gimbal cover)
Max Ascent Speed:
16.4 ft/s (5 m/s) in Sport mode (Sport mode)
Max Descent Speed:
9.8 ft/s (3 m/s)
Max Speed:
40 mph (65 kph) in Sport mode without wind (Sport mode)
Max Service Ceiling Above Sea Level:
16404 feet (5000 m)
Max Flight Time:
27 minutes (0 wind at a consistent 15.5 mph (25 kph))
Max Hovering Time:
24 minutes (0 wind)
Overall flight time:
21 munites ( In normal flight, 15% remaining battery level )
Max Flight Distance:
8 mi (13 km, 0 wind)
Operating Temperature Range:
32° to 104° F (0° to 40° C)
GPS Mode:
GPS / GLONASS
OBSTACLE SENSING SYSTEM
Obstacle Sensory Range:
Precision measurement range: 2 ft (0.7 m) to 49 ft (15 m)
Detectable range: 49 ft (15 m) to 98 ft (30 m)
Operating Environment:
Surface with clear pattern and adequate lighting (lux > 15)
CAMERA
Sensor:
1/2.3" Effective pixels:12.35 M (Total pixels:12.71M)
Lens:
FOV ( Field Of View ) 78.8° 28 mm ( 35 mm format equivalent ) f/2.2
Distortion < 1.5% Focus from 0.5 m to ∞
ISO Range:
100 - 3200 ( video ) 100 - 1600 ( photo )
Shutter Speed:
8 s to 1/8000 s
Max Image Size:
4000×3000
Still Photography Modes:
Single shot
Burst shooting: 3 / 5 / 7 frames
Auto Exposure Bracketing ( AEB ): 3 / 5 bracketed frames at 0.7 EV Bias
Interval
Video Recording Modes:
C4K: 4096×2160 24p
4K: 3840×2160 24/25/30p
2.7K: 2704×1520 24/25/30p
FHD: 1920×1080 24/25/30/48/50/60/96p
HD: 1280×720 24/25/30/48/50/60/120
Max Video Bitrate:
60 Mbps
Supported File Systems:
FAT32 ( ≤ 32 GB ); exFAT ( > 32 GB )
Photo:
JPEG, DNG
Video:
MP4 / MOV ( MPEG – 4 AVC / H.264 )
Supported SD Cards:
Micro SD@trade;, Max capacity: 64GB. Class 10 or UHS-1 rating required
Operating Temperature:
32° to 104° F ( 0° to 40° C )
CHARGER
| Voltage: | 13.05 V |
| --- | --- |
| Rated Power: | 50 W |
GIMBAL
Controllable Range:
Pitch -90° to +30°
Roll: 0° or 90° (Horizontally and vertically)
Stabilization:
3-axis (pitch, roll, yaw)
VISION POSITIONING
| Velocity Range: | ≤22.4 mph (36 kph) at 6.6 ft (2 m) above ground |
| --- | --- |
| Altitude Range: | 1 - 43 feet (0.3 - 13 m) |
| Operating Range: | 1 - 43 feet (0.3 - 13 m) |
| Operating Environment: | Surface with clear pattern and adequate lighting (Lux > 15) |
REMOTE CONTROLLER
Operating Frequency:
2.4 GHz to 2.483 GHz
Max Transmission Distance:
FCC Compliant: 4.3 mi ( 7 km );
CE Compliant: 2.5 mi ( 4 km )( Unobstructed, free of interference )
Operating Temperature:
32° to 104° F ( 0° to 40° C )
Battery:
2970mAh
Transmitter Power ( EIRP ):
FCC: ≤26 dBm
CE: ≤20 dBm
Operating Voltage:
950mA @ 3.7V
Supported Mobile Device Size:
Thickness Supported:6.5-8.5mm
Max length: 160mm
Supported USB port types: Lightning, Micro USB(Type-B),USB(Type-C)™
INTELLIGENT FLIGHT BATTERY
| Capacity: | 3830 mAh |
| --- | --- |
| Voltage: | 11.4 V |
| Battery Type: | LiPo 3S |
| Energy: | 43.6 Wh |
| Net Weight: | Approx.0.5 lbs(240 g) |
| Operating Temperature: | 41° to 104° F ( 5° to 40° C ) |
What's Included
Reviews
Customer Reviews (55)
Great product

Review by

Pop

---

The Mavic PRO is a great drone. Easy to set up and easy to fly. (Posted on 9/14/2017)

Outstanding quality

Review by

VinceJM

---

I purchased a DJI Mavic Pro After spending nearly 50 years working in aerospace, I was very impressed with the quality of construction, and the function of the Mavic Pro. As a photographer in my retired years, I have taken up photography, both as a hobby and as a semi-professional and can recognize the image quality that is produced by the Mavic Pro system. I am somewhat disabled now and use the Mavic Pro to access places that I cannot access by foot.
I am well satisfied with this instrument and look forward to finding many uses for it. (Posted on 8/29/2017)

a seamless process.

Review by

Murr

---

Everything was as advertised. It was a pleasure shopping with these guys. (Posted on 8/10/2017)

DJI magic pro

Review by

Stoob

---

Love it, still learning the in's &out's but having fun doing it (Posted on 7/12/2017)

Purchase from Drone World

Review by

mmflytie

---

Great company to deal with . Received my Mavic Pro combo kit in a timely manner and very pleased with purchase. Would definitely buy again from drone world. (Posted on 7/12/2017)

My Mavic Pro combo purchase

Review by

mmflytie

---

This was my first order through Drone World. I must say, I got everything in a timely manner and it was as advertised and expected. I am very pleased with my purchase and should the need arise again, I would not hesitate to make future purchases from Drone World (Posted on 7/12/2017)

Excellent Customer Service

Review by

Lizzy

---

I purchased the magic pro upgrade combo and am really enjoying the various accesories and quality of the products provided! I had some customer service related questions and have been in touch with Mike and Brendan both of whom were awesome, and addressed my concerns/questions very promptly. It has been a pleasure doing business with Drone World and I highly recommend them to others looking to purchase a drone/drone related items. (Posted on 7/11/2017)

Absolutely amazing!

Review by

Dwill

---

When I receive my drone I was a bit intimidated to fly it but after watching some videos I gain my confidence and gave it a try. This thing is very user-friendly and takes absolutely amazing pictures and videos! Thank you two Drone World for your amazing customer Service and quick responses! (Posted on 7/5/2017)

Great Service & Products

Review by

AZ Desert Rat

---

I received my Mavic Pro Combo Kit a few weeks ago. The overall ordering & shipping experience was all positive. The delivery arrived with everything in perfect shape. I love the Lowepro backpack. It's super functional and well made. I wouldn't hesitate to recommend Drone World to a friend. (Posted on 6/29/2017)

Awesome

Review by

None

---

This is my first drone and it exceeded my expectations. I highly recommend purchasing this package as it has everything you need (Posted on 6/18/2017)

MAVIC pro

Review by

WVBOY

---

Superb!!! (Posted on 6/17/2017)

Dji MAVIC pro

Review by

Wvboy

---

Amazing company!! Exicellent communitions skills, stand behind there products!! Now I'm gonna see how well they fix the products they sale!!! I have high hopes & faith! There will be no problem

(Posted on 6/17/2017)

Fantastic

Review by

Ray

---

Fantastic. (Posted on 6/6/2017)

Excellent Quality, Performance and Value

Review by

Pro Flight

---

Outstanding product! Easy to use and carry with you anywhere! Proven technology that is very reliable and rugged. Outstanding videos and and loiter time! Recommend this product for a multitude of uses and users. (Posted on 6/6/2017)

very happy with the package deal

Review by

Bilko

---

very stoked to receive my package and was very impressed with the DJI product (Posted on 6/2/2017)

windy conditions

Review by

Lou Pop

---

I was impressed with the drone in windy conditions. (Posted on 5/25/2017)

great purchase experience

Review by

Jeff

---

Mike Costa of Drone World was awesome to deal with when I purchased my Mavic Pro Combo. (Posted on 5/23/2017)

More than expected

Review by

Centauro97

---

Having flown some "mini" drones with no onboard assist, I didn't have much confidence that the Magic Pro was all that it was touted to be. Sure, an expert drone pilot would have not problem, but that's not me. I was amazed in the integration between the iPhone application and the drone's use. Yeah, I watched the videos, but that's someone else's experience. One touch and the drone hovers steady? Yes. Dampened control in "Beginner" mode make a difference? Yes. For a "toy" this is much better than a video game, because you are the video game! (Posted on 5/20/2017)

Mavic Drone

Review by

RobertLaban

---

Love my mavic... kit comes with everything you need... (Posted on 5/18/2017)

Mavic Pro

Review by

srjcooper

---

Great package with all you need to get started. Having fun learning to fly. (Posted on 5/11/2017)
Write Your Own Review
Videos
Q & A
Upgrades
Product
What's the main difference between Mavic and Phantom 4?
The Mavic is smaller, lighter, and easier to carry with you thanks to its foldable design. Its new OcuSync transmission system has a longer transmission range and 1080p resolution. Due to its larger size, the Phantom 4 has a higher maximum speed and can withstand stronger winds.
Does the folding mechanism wear out and will it need replacing?
The folding mechanism has been tested to last at least 5000 folds. It is unlikely that it will wear out during the Mavic's lifetime.
What's difference of camera between Mavic and Phantom 4?
The two cameras have the same features, but the Mavic's camera has a smaller FOV, is able to focus as closely as 0.5m and can be rotated 90° for portrait shots and selfies. The Phantom 4's larger FOV makes it better suited for landscape imaging.
Remote Controller and Wi-Fi
What is the difference between using the remote controller to control the Mavic, and using your smartphone to control it via Wi-Fi?
The Mavic remote controller uses DJI's OcuSync transmission technology, giving it an increased range of up to 4.3mi (7km) in open areas without interference, FCC compliant. When using a smartphone connected via Wi-Fi, the controllable range is 80m, and maximum altitude is 50m, making it suitable for short-range shots like selfies and for setting up ActiveTrack. You can also download photos and videos directly from the Mavic to your mobile device via Wi-Fi. By sliding the Control Mode switch on the right hand side of the aircraft, you can choose easily between Wi-FI and RC mode depending on which transmission type you need.
How do I switch between the two controller modes?
First, make sure that your aircraft is powered off. Then, open the small cover on the right hand side of the aircraft body. Slide the switch to the left to enable Wi-Fi control, or to the right to use the remote controller.
What sizes of smartphone can fit inside the Mavic remote controller?
The Mavic remote controller can fit smartphones between 6.5-8.5mm thick and up to 160mm long, without a phone case. Phones and tablets larger than this do not fit the remote controller's device holder.
Can I use a regular USB cable to connect my phone and remote controller?
Yes, you can. However, for the best user experience, we recommend that you use a dedicated Mavic RC (Remote Controller) Cable to connect your phone.
What's the difference between the Remote Controller Cable (Standard Micro USB Connector) and the Remote Controller Cable (Reverse Micro USB Connector)?
Phone with display facing up:
The phone on the left has a standard Micro USB Connector; the phone on the right has a Reverse Micro USB Connector.
The Remote Controller Cable (Standard Micro USB Connector) is compatible with: Samsung, Huawei, Motorola and more. The Remote Controller Cable (Reverse Micro USB Connector) is compatible with: HTC, Mi, OPPO and more. For Sony, VIVO, and other brands, phone compatibility differs by model. Please take care to choose the correct type for your phone.
What Remote Controller Cables are included with the Mavic upon purchase?
Two cables are included in the box: one with Lightning connector and one with a standard Micro-USB connector.
What is the default Wi-Fi SSID and password?
For security purposes, each Mavic has its own SSID and password that can be found on a sticker on one of the forearms of the aircraft and inside the battery compartment. For your first use, you can scan the QR code with the DJI GO app to connect to the aircraft*, or enter the password manually under your phone's Wi-Fi settings.
(*Only available for Android devices).
Can I use other QR code apps to scan the QR code and connect to the aircraft via Wi-Fi?
No. You must use the DJI GO app to connect to your aircraft.
How can I set the Wi-Fi SSID and password?
Connect to your Mavic via Wi-Fi and then enter Camera View. Now enter Wi-Fi settings to manually set the SSID and password.
How do I reset the Wi-Fi password back to default?
Turn on the Mavic in Wi-Fi mode, press the linking button and hold for 5s.
What is the benefit of dual-band Wi-Fi?
The 2.4G Wi-Fi frequency was developed a long time ago, 5G Wi-Fi is newer. As 2.4G is older, more devices use this frequency, making it more likely to suffer from interference. 5G is less prone to interference as there are less 5G devices, but not all phones support the 5G frequency. You can switch between these two frequency bands in the Wi-Fi Settings menu in the DJI GO app.
Propulsion
Do I have to take the propellers off when in transit?
No. Just fold the propellers and you are good to go.
What happens if the propellers are not fully unfolded before flight?
Once the rotors start spinning, the centrifugal force will automatically push the propellers into the correct position, so you don't need to worry about not having unfolded them perfectly.
The Mavic's motors are not all on the same plane. Will this affect its flight performance?
No.
What's the highest level of wind the Mavic can resist?
The Mavic can withstand a level 5 wind, also called a fresh breeze. This is defined as wind speeds of 19–24mph (29–38kph).
How far can the Mavic fly on a single charge?
In calm weather and under ideal conditions, the Mavic can fly up to 8 miles (13km) at 31 mph (50 kph). Real-world performance will vary though, so we urge you to monitor your battery level at all times.
Why does the Mavic have a longer flight time than hover time?
Thanks to its rotor system optimized for forward flight and its aerodynamic design, when flying at the optimum speed for energy consumption, the Mavic consumes less energy then it does hovering. This is why it is able to give you a 27 minute flight time, while its hover time is 24 minutes.
Video Transmission
What is the main benefit of the OcuSync video transmission system?
OcuSync has a range of up to 4.3 miles (7 km) with improved resistance to interference and a higher transmission throughput. At shorter ranges it can stream footage to you at 1080p resolution and also allows photo and video downloads at 40Mb/s.
What is the resolution of the live view transmitted via OcuSync?
1080p/30fps for near-field transmission; 720p/60fps for far-field transmission.
What is OcuSync's transmission latency?
160ms from the Mavic's camera to your device screen under ideal conditions.
Vision
What is the difference between quick calibration and advanced calibration?
When the Vision System fails to function normally, you can do a quick calibration in the DJI GO app, or connect the aircraft to a computer to perform advanced calibration for higher precision.
What is the difference between the Mavic's Intelligent Vision Positioning System and an Optical Flow Vision Positioning System?
The Mavic combines dual forward and downward vision sensors to realize precision hovering. Therefore, it requires no more than a patterned surface and enough available light to be able to hover stably up to 13m above the ground. Even if the Mavic is unable to identify reference points on the ground, it can still rely on its forward vision sensors to hover. In contrast, an Optical Flow system, requires information from ultrasonic sensors to supplement its view of patterned surfaces.

An example to show the difference between the two systems is when the aircraft is returning to you where you are standing on a balcony. When flying in over the balcony, drones using Optical Flow will receive data from two data sources that measure its height above the below surface differently – one being its height above the ground, and another the height above the balcony. As the data is not compatible, an Optical Flow system may become confused.

Another example is when the ground below the drone is covered by vegetation. Plants and trees do not reflect sound as well as other surfaces, causing the Optical Flow system's ultrasonic sensors to be unable to gather altitude data.

In conclusion, the Mavic's Intelligent Vision Positioning System requires fewer inputs and is therefore more robust in its functionality.
What is the minimum distance and maximum flight speed at which the Mavic can fly while avoiding obstacles?
The Mavic will automatically avoid obstacles 50ft (15m) in front of it. The maximum speed at which the Mavic is able to avoid obstacles is 22mph (30kph).
What are the conditions required for Precision Landing?
Precision Landing is an upgraded version of GPS RTH. It needs a GPS signal strong enough to initiate Precision Landing, so that the Mavic can be navigated back to the vicinity of the take-off point.
Then, the aircraft needs to be able to visually recognize the pattern of the ground it took off from, for example cracks or other identifiable patterns. A uniform patch of sand, however, is not suitable for Precision Landing. Finally, the Mavic needs to capture footage of the ground during take-off to record its appearance. This means that you should give the Mavic sufficient time during its ascent, instead of flying away immediately after take-off.
Charging
Can the Mavic's charger charge both its Intelligent Flight Battery and its remote controller?
Yes, it can charge a battery and two other devices simultaneously via USB. However, it will take longer to fully charge the devices.
Does the Mavic's battery support quick charging?
Yes. The Mavic's Intelligent Flight Battery supports quick charging at nearly 2C, with a maximum charging power of 100W. The rated power of Mavic Battery Charger is 50W, and the rated power of the Mavic Car Charger is 78W. When using the Mavic Advanced Charging Hub with a 100W adapter, the battery can be charged at 100W.
What is a Battery Charging Hub? What is the difference between the two versions of the Mavic's Charging Hub?
The two Charging Hubs can both charge up to 4 batteries at one time. In order to fully charge the first battery as quickly as possible, the Intelligent Flight Batteries are charged in sequence according to their power levels, from high to low. This gives you the fastest way of getting all your batteries fully charged.
There are two main differences between the two Charging Hubs. First, the standard Charging Hub only supports the Mavic's 50W Battery Charger and Mavic Car Charger, while the advanced version also supports the 100W Battery Charger and Car Charger from the Phantom 4. Second, the advanced version will balance the voltage of each battery cell to improve charging efficiency. When one battery's charging enters the second-half of its charging phase, the next battery will enter the first-half of its charging phase. With 4 batteries all at 15%, the advanced charger can get 4 batteries fully charged in 140 minutes using the Phantom 4's 100W charger, while the standard version will need 270 minutes with the Mavic's 50W charger.
What is the Mavic's Battery to Power Bank Adapter?
This adapter can be connected to the Mavic's Intelligent Flight Battery, turning it into a power bank. Thanks to its high capacity, an Intelligent Flight Battery at 25% charge can fully charge the Mavic's controller, or an iPhone 6.
What is the maximum output current for the Mavic's Battery to Power Bank Adapter?
The adapter has two USB ports which can be used simultaneously. The output voltage is 5V, and the max current is 2A + 2A.
Travel Notice
How many batteries can I carry in the Mavic's Shoulder Bag?
Four. One mounted on the Mavic, one at the bottom of the bag, and on in each of the two side pockets.